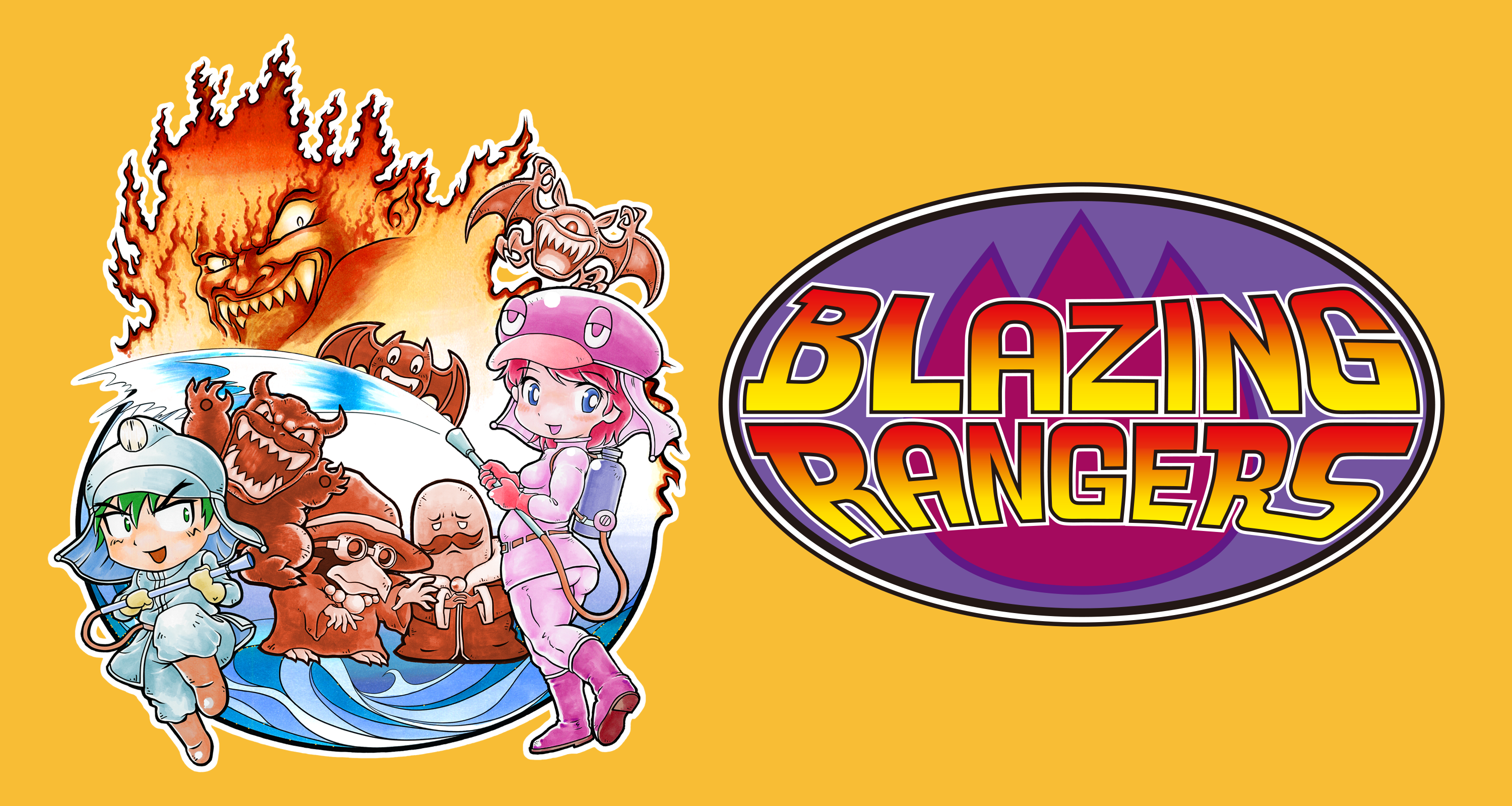 Blazing Rangers / 炎のレンジャーマン

GAME CONTROLS



D-Pad: Move the Ranger / Change water launch direction
十字キー: レンジャーの移動 / 放水方向を変える
B-Button: Pick up the hose / Drop the hose / Pump water from ground
Bボタン: ホースを拾う / ホースを置く / ポンプで水を補充する
A-Button: Shoot water
Aボタン: 放水する
Start: Pause / Resume game
スタート: 一時停止・再開
Select: Not used
セレクト: 使用しない


Blazing Rangers is a brand-new FC/NES action game, developed by Gotta Protectors' creator Karu_gamo, with a red-hot soundtrack composed by Japanese chiptune-legend Hydden and a beautiful manual manga illustrated by Shimotsuki Juugo! The game is entirely optimized for Mapper0 restrictions, which were the earliest PCBs for NES & FC hardware.

The setting and goal of the game is easily explained: You are a fire fighter with the task to rescue all kids from a dangerous and demon-infested fire site.
Equipped with a water hose, you can choose between two characters and will fight an ever-growing wall of fire and a plethora of dangerous enemies to open up the way and save the children. It's also important not to dawdle around - they might get burned if you don't take some risks and hurry to their rescue!
The two main characters Popo and Mimi both have their unique strengths and play-styles, which you can choose from on your own preference OR even send both to the rescue via 2 player coop-play with a friend!

炎のレンジャーマンは、待望の日本のゲームクリエイターKaru_gamoの個人開発によるマッパー0の限界まで挑んだ正統派の意欲作!
ゲーム開発だけでなく、アートワークから炎のレンジャーマンのメインテーマ曲「燃える火消し魂!炎のレンジャーマン」の作詞までと殆ど単独で制作、多彩です。80年代のアーケードゲームを意識し再現した、FC互換対応のオリジナル1画面アクションゲームです。
更に、チップチューンに定評のある日本のコンポーザーHyddenによるFCサウンド♪取扱説明書の巻末ショート漫画は日本のイラストレーター下月重吾による描き下ろし!
まるでブラウン管テレビでゲームをしているようなノスタルジック且つ正統派のジャパニーズFC全盛期ドストライクの仕上がり。設定やゴールはとってもシンプル。プレイヤーは消防士になって危険な火災現場から子供たちを救出する任務を担っています。
ホースを装備し、2人のキャラクターどちらかを選択して、燃え広がり続け立ち塞がる炎の壁や危険な敵たちと戦いながらルートを確保し子供たちを救出していきます。モタモタしていると子供たちがヤケドをしてしまう恐れがあるので危険を冒しながらもスピーディーに救助活動をしていきましょう。また、二人同時にプレイもできるので助け合いながら子供達を救出もできる!
Game Features
exciting & unique fire-fighting gameplay for NES&FC-compatible hardware
more than 32 challenging levels with many hidden secrets
a wide array of power-ups and enemies
two different game modes with strong changes to the gameplay
2-player co-operative play, a partner can join the game at any time
randomly generated dangers, each play-through will challenge you in new ways
ゲームの特徴
FC互換性ゲーム機用の熱く燃える消火&救出ゲームプレイ
隠された多くの秘密満載の32面以上の挑戦的レベル
パワーアップや敵がてんこ盛り
ゲーム性が大きく異なる2種類のゲームモード
二人同時プレイ、途中いつでも参加可能
ランダム生成された危険な試練はプレイする度に新たな挑戦をしかけてくる!
A free demo with four levels is NOW available to try from Itch.io! Play it on an emulator on a device of your choice or through flashcard on real NES/FC hardware.
Itch.ioで4つのレベルの無料体験デモを試せます!お好みのデバイスのエミュレーターまたはFC/NESの実機で再生してください。
You can pre-order the full physical release in First Press Games' webstore, with scheduled release for August 2021: Click here to show all details!

First Press Games/WEBストアでは完全パッケージ版をご予約いただけます。2021年8月にリリース予定。詳細はこちらをクリック!


This is what the critics say:
"Karu_gamo ['s] [...] new firefighting action game is a red hot NES release that showcases a burning passion for Eighties arcade classics."
- Retro Gamer Issue 215, Retro Inspired: Blazing Rangers
"If you've got the skills — and the requisite hardware — Blazing Rangers is a real 8-bit blast."
- Nintendo Life, 8/10⭐ Review "

[Blazing Rangers] feels like an early Namco title, [...] when the developers were really experimenting with some weird and interesting ideas, resulting in a game that simultaneously feels classic and novel.
- Hardcore Gaming 101, Review Article
"Within the confines of early Famicom programming, [...] Blazing Rangers does a lot of great things. [...] Wether you are playing alone or with a friend, [it] comes highly recommended!"
- Bullet Heaven #315, Video Review


☆レビュー紹介☆
Karu_gamo氏が創造したこの新たなアクションゲームは、80年代のアーケードスタイルを彷彿とさせる、まるで炎のようにアツいレトロ系ゲームだ。 - Retro Gamer Issue 215, Retro Inspired: Blazing Rangers
スキルとハードさえあれば、炎のレンジャーマンでリアルな8ビットを楽しめる。 - Nintendo Life, 8/10⭐(レビュー評価)
炎のレンジャーマンは初期のナムコシリーズを想起させ、開発者たちの独創的なアイデアから生まれた斬新かつレトロなゲームだ。 - Hardcore Gaming 101, レビュー記事

炎のレンジャーマンは初期FCゲームのレベルでもトップクラスの逸品だ。1人でも仲間とも楽しめるこのゲームを激推しするよ! - Bullet Heaven #315, ビデオレビュー
NES® & FC®/Famicom® are registered trademarks of Nintendo. This release is neither endorsed by nor affiliated with Nintendo.
Blazing Rangers/炎のレンジャーマン ©2021 Karu_gamo, First Press Games. All rights reserved.

Copying, secondary distribution, sale, or transfer of this work or its demo to any commercial medium without the permission of the right holder is prohibited.
FC®とNES®は任天堂の登録商標です。このリリースは任天堂の承認も提携もありません。
FC、NES両体験版および本作品の権利はFirst Press Gamesまたは権利の所有者に帰属します。
体験版および本作品を当該権利者の許諾なく、無断でいかなる記録メディアへのコピー、二次配布、販売、譲渡の一切を禁じます。
Install instructions
The game files need a NES/FC-compatible emulator or flash card to be executed.
体験版ゲームファイルを実行するには、FCまたはFC対応のエミュレータかフラッシュカードが必要です。